Congo Gorilla Permits – Gorilla Safari Tours in Congo, Virunga National Park & Kahuzi Biega National Park.
Welcome to Congo Gorilla Permits a travel guide offering tourism information, news, insights and updates in Virunga National Park and Kahuzi Biega National Park. Both parks are known for the gorilla trekking safaris but each offering different gorilla family.
In Virunga National Park you find the mountain gorillas and it is said from research that there is only 200 species  found in this park.
This park borders other 2 East African countries which include Rwanda and here it is called Volcanoes National Park and it is here you find the most expensive gorilla trekking experience, Uganda and here it is called Mgahinga Gorilla National Park and it is Uganda and Democratic Republic Congo you can experience an affordable gorilla trek adventure.
After gorilla safari in Virunga mountains you can experience the unforgettable Chimpanzee Habituation Experience that takes place in the Tongo forest next to the Mikeno Lodge and for one to take this experience has to stay at this luxury lodge in the park.
After this transfer to the Kabati point where the extraordinary Mount Nyiragongo hiking adventure begins from and it is a full day experience and you take an overnight on top of the mountain in the Nyiragongo shelters.
When you reach on top of the mountain you can unforgettable memories of the boiling Lava and the scenic of the Goma town.
If you are planning to experience the best organized tours in Congo please follow that link you will find our yearly promotional discounted Congo gorilla trek & Nyiragongo trek, and i highly advise to book with very reliable and trusted tour operators that are recommended on this guide.
Once again this guide is here to help you to find the suitable gorilla trekking safari lodges to stay in Virunga & Kahuzi Biega National Park.
Among the lodges to stay in Virunga National Park include the Mikeno Lodge which is the most luxurious in the park, Bukima Tented Camp a deluxe camp and situated exactly near or at the starting point of gorilla trekking in the park.
Tchegera Tented Camp, this one is situated at the shores of Lake Kivu and for all honey moon travelers this is a home to be on your holiday in Democratic Republic of Congo, Kibumba Tented Camp, this is the newly opened mid – budget lodge and offering a very comfortable stay before or after your gorilla safari and you can too experience the vibrant Democratic Republic of Congo.
Today, with the effort of security more lodges like Lulimbi Tented Camp has been also opened in the Virunga Savannah and for travelers willing to combine wildlife viewing like elephants, gorilla adventure, Nyiragongo hike in Virunga National Park do not miss to ask your operator to prepare for your stay at this lodge as for now the lodge is still not open to finish the settings and by June 2018 it will be open to travelers.
Things to Do
Gorilla Trekking Experience
Chimpanzee Habituation Experience
Mount Nyiragongo Adventure
Mount Rwenzori Trekking
Conservation
As tourism work together with conservation in the entire world in Virunga National Park you will find conservation centers like the Senkekwe Gorilla Orphanage Center and the only password to visit this center for free, just take a night at Mikeno Lodge.
More so other programs like Congo Hounds – intelligent security dogs with rangers patrolling together the park looking for the poachers have been put in place as the park and tourism products are concerned to be saved for the future generation.
With this program rangers have managed to spot a number of poachers and this program also tourists to Virunga National Park especially staying at Mikeno Lodge can experience it after the gorilla safari adventure.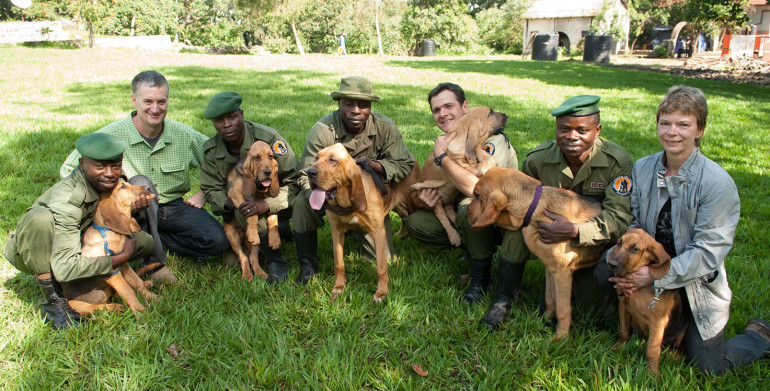 How Does this Program Work?
After the dogs and the rangers being trained they are assigned work in the park and the dog fronts the patrol with the ranger following and this program is making the conservation work to move on and there are other more programs like where the park uses the charter to patrol the park.
Since our Congo gorilla guide is focusing on Congo Gorilla news, insights and updates and you are interested to experience the Eastern lowland gorillas, you will find more information about the lowland gorillas in Kahuzi Biega National Park before planning for your gorilla safari.
Still with our listed tour operators you will be assisted to visit this park in the Eastern Congo, Bukavu region on combined trip with Virunga or alone and do not miss to visit the Lwiro Chimpanzee Sanctuary that is just few kilo meters outside the park and cost $ 60 USD per person.
Democratic Republic of Congo Tourist Visa
What is so amazing that a Democratic Republic of Congo Tourist Visa is valid for 7 days but when you opt to visit the Kahuzi Biega National Park for lowland gorilla safari tours together with the Virunga National Park for the mountain gorilla and Nyiragongo Hike.
The trusted tour operators listed on this guide will secure for you a tourist visa that is valid for 14 days and you will have to use a boat cruise from Kahuzi Biega National Park to Goma and it costs $ 50 USD per person and when you reach Goma you will have to stay at Lac Kivu Lodge and the next day in the morning the Virunga Jeep will pick you up and proceed to Virunga National Park for your experiences.